When talking about VGOD, It reminds us of the fancy vaping show and the popular kit Vgod pro mech, Vgod Pro 150. Now here comes another kit -- Vgod Pro 200W kit.
The mod comes with 186g without battery which is a little bit heavy in hand. The front and back have the stickers which look like the Armour. It does not only for decoration but also to protect the mod from getting worn and sliding in hand. Taking a closer looking for the mod, it comes with a dull polished surface which looks cool and qualifying.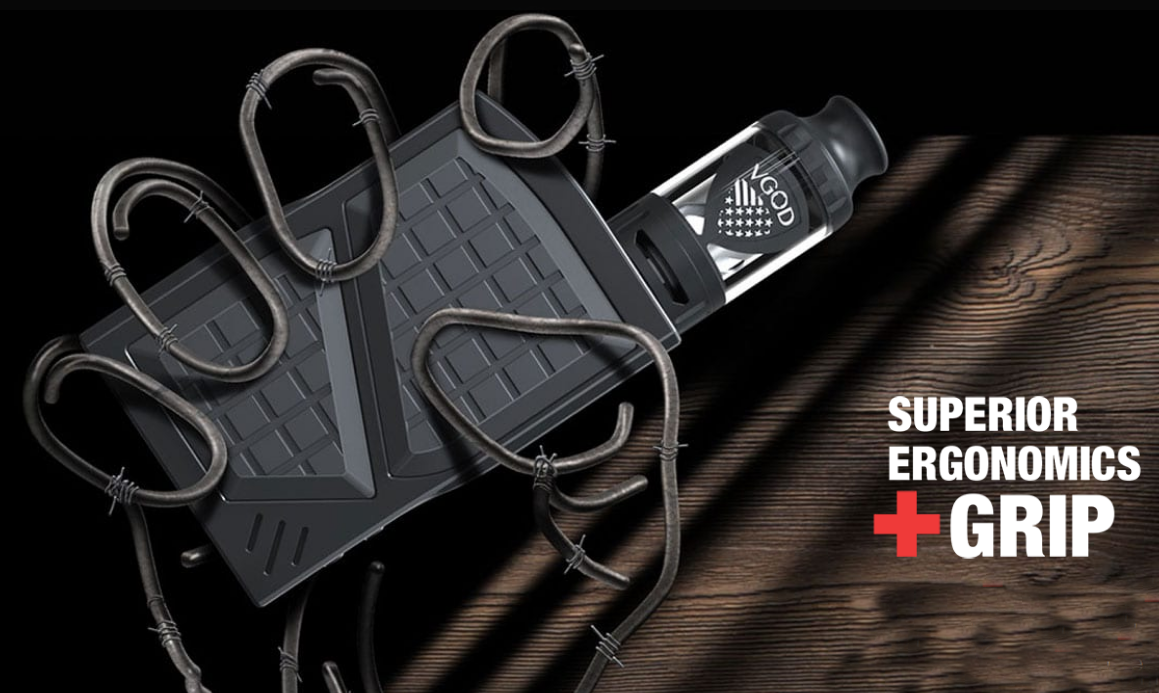 The distinctive logo in the sticker which is noticeable. The side is the display screen and "+" and "-" button. The fire button located on the top. As for the most mod, the fire button is on the side. When the first time gets this, I think it is inconvenient. The fact turns out I am wrong. It is very convenient for fire with the cambered surface design which has a more touch feeling.
Just like most Mods in the market, the Vgod Pro 200w use the back panel as the battery door which is easy to replace the battery. It uses the magnet to hold the battery door in one place which is very tight. You would not have to worry about rattle when holding it in hand.
VAs we know, the Vgod team is for fancy vaping. They have a strict requirement for the device, so does the products from Vgod. The Vgod pro kit has a prompt wattage output which is attributable to the chipset. The Chipset for Vgod is famous for its stable performance and powerful functions. It supports Ti, Ni, SS304, SS316 output mode, Pro mode, and MECH mode. The working style of Pro mode is similar to the curved mode which is for professional vapers. It supports the max voltage 8.4v. The mech mode works with the max voltage 4.2V for constant output. Also, the kit supports the VW mode. For most vapers, it is enough vaping with VW modes.
The TANK for the kit is Pro subtank with a big air in slot getting enough vapors for fancy vaping. The Coil for the tank is 0.2 ohm. As a pre-installed coil, it saves much time for vaping. It comes with a bottom airflow system. There is a great design in dealing with back-flow. You will not get it in the mouth when vaping. 5ML liquid capacity is enough for daily vaping.
Brief Conclusion
Even it has a little big in hand. It has an excellent performance especially with the ATOM.V.200B chipset which has powerful functions and stable output. It has a soft and smooth flavor with a sweet smell which is not stimulating at all.
In all, the kit comes with a simple design which looks elegant. Its performance is attractive for both common vapers and professional vapers. It would be a great choice.