Smoktech released a new pod kit called Trinity Alpha. At first sight, it reminds me of the UwellBlocks kit. Both of them has a square shape and a resin design on the panel. Now Let's have a view on the Trinity Alpha kit.
Unlike most of the pod kit, the Trinity Alpha has a special shape which looks like a box mod. There is a resin panel on both sides which is impressive to you. With 1000mAh built-in battery and 2.8 ml juice capacity, it would be a great partner to take along.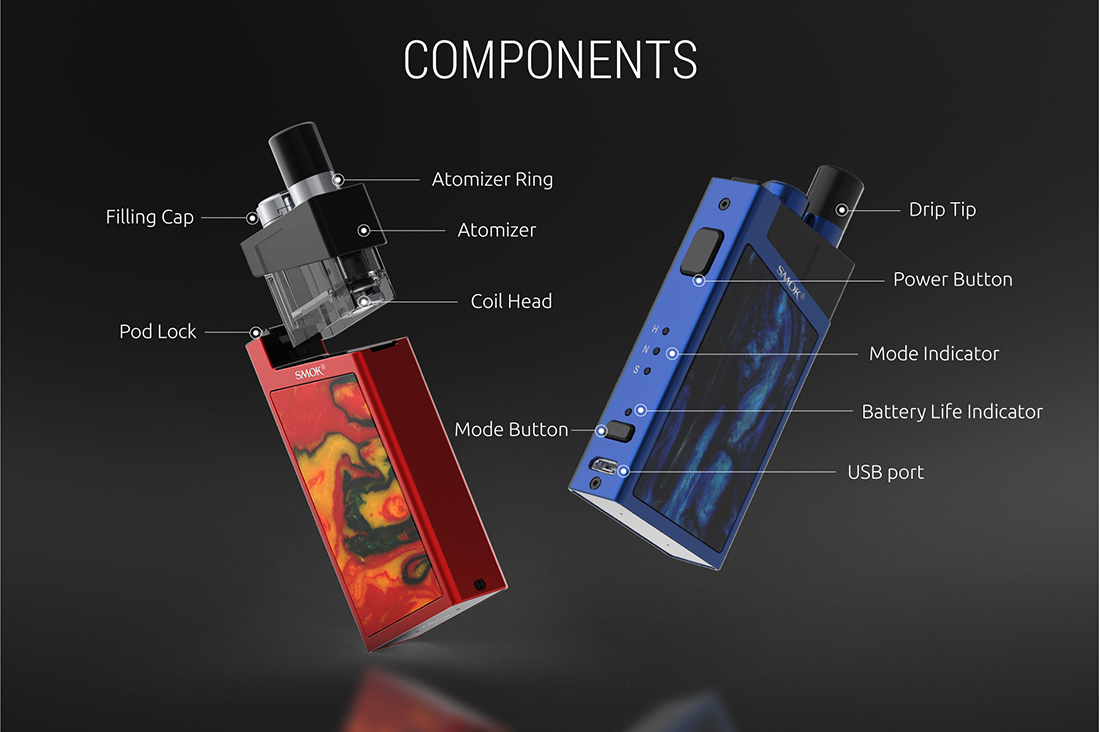 The pod has a top filling system. Pushing the top cap to open filling slot, it is very easy for juice refilling. There are three modes available for the pod kit. It supports soft, norm and hard mode to satisfy different needs with the wattage range 10W to 25W. Pressing the mode button, you can choose the vape mode. There are LED indicators for showing the selection mode. Also, a LED light to display the battery situation with Greenlight(>70%), orange light(30%-79%)and red light(<30%).
On the narrow side, the power button, mode indicator, battery life indicator, mode button, and USB port listed there consequentially. You can run it just like a mod but in a super easy way.
The pod has a lock system to connect the battery and the cartridge instead of using the magnet. You can push the button to detach the pod and push back to lock it.
The coils for the pod kit are mesh coils. There are four coils optional. The Nord mesh-MTL 0.8ohm coil and Nord Mesh 0.6ohm coil includes in the kit. The Nord regular 1.4ohm coil and the Nord ceramic 1.0-ohm coil are not in the kit. To replace the coil is also easy. Detaching the pod, plug the coil to install the new one.
Main Features for the Trinity Alpha kit
1. Three power modes
2. E-liquid capacity of 2.8ml
3. Big power button
4. Push-up-type filling cap
5. Unique lock button for pod fixation