Topside LITE is the newest Mod from Dovpo which is a combination for squonk and standard mod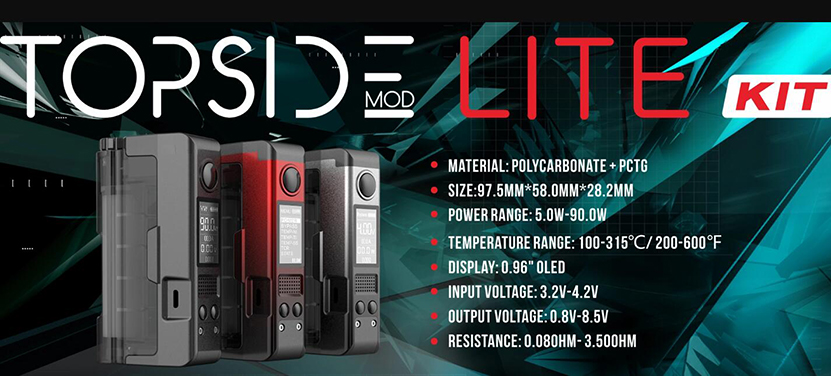 PACKAGING INCLUDED:
- TOPSIDE LITE
- Housing for non-BF mode
- Plastic battery adapter 18650 to 21700
- 2 additional connection sleeves for BF housing
- USB cable
- English Mod Manual
- Battery safety card
ADDITIONAL ACCESSORIES AVAILABLE FOR SALE SEPARATELY:
- Replacement bottles Additional (special for this mod as they also include half casing)
THE PRODUCT:
I am interested in this squonker since the first time I saw it. The top-up recharge, the construction material, the possibility of non-BF use, low weight, and also that the DOVPO brand has never let me down. The only thing that throws me back a little without having it in my hand or having seen it physically was perhaps the size since it seemed large. And in fact, it is not small, but not as large as it may seem for a 21700. The size is like that of a TOPSIDE, but the weight has nothing to do with it. It is very light in comparison since it is entirely made of plastic, although it does not look like it at all.
The finishes are very good, and the feeling of the equipment in hand is of quality, good finishes, and comfort, the low weight is the point in favor.
It is very considerate that there are no sharp edges on the mod. It is comfortable in hands. The button is a little click, but works very well and is comfortable the electronics are the same as in the previous Topside. The housings fit perfectly in both cases and do not rattle anything because they are held by magnets.
The bottle has a great autonomy of 10 ml and is well thought out. If you buy it separately, it is already mounted with half attached housing, although this does not make the article much more expensive.
On the contrary, the top refill without taking out the bottle and without making inventions with a refiner is very comfortable, and I hope that other manufacturers take note because it is going very well and more comfortable it cannot be. I have not had leakage problems.
It admits the perfect integration of Atos of how much up to 26mm without protruding so that they look good.
Inside the MOD, we find a very proven chip in previous versions that works well and of very simple and basic use that provides a good and fast power delivery. The electronics as in the previous TOSIDE are basic, but it goes very well and is upgradeable. The electronic protections available make it very safe and suitable equipment for novice vapers who want to start in the BF.