The DREAD RDA by Damn Vape is a 24mm dual coil atomizer, it is delivered in a black box, with the logo printed on it, the name of the atomizer and the brand logo.
Opening the box we find a case with a zipper that contains the DREAD atomizer, a Lolly Tool, two Lolly coils, the user manual, also available in Italian, and the usual spare parts.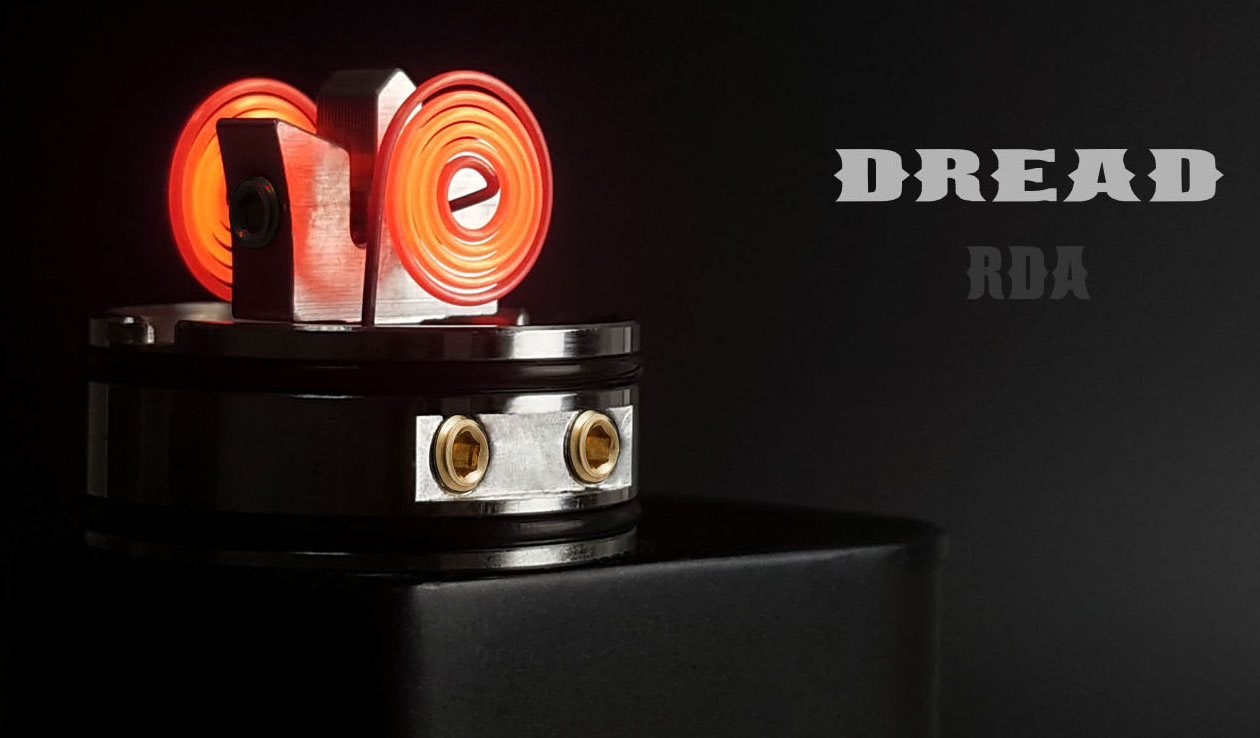 Specifications
Regarding the detailed technical specifications and the various colors available, you can refer to the following link.
Aesthetic and functional aspects:
My atomizer is opaque black (Black).
The atomizer is a dodecagon, while the airflows are hexagonal composed respectively of seven holes, which can be easily selected by simply turning the barrel.
The barrel is fixed to the deck via two trenches so that the slots are always facing the coil.
Taking off the barrel, you see the deck where the trident shape of the central turrets (Trident-post deck) dominates.
The liquid inlet holes are located at the base of the Trident / turret, in an optimal position.
The fixing screws are allen, this facilitates tightening.
The 810 drip tip is of generous dimensions as far as the central hole is concerned, medium in terms of height.
The Trident-post deck allows both Lolly coils and traditional coils to be used.
I immediately used the supplied coils.
Easy to make, thanks to the Lolly Tool, and easy to assemble, they are activated without any hot spots.
More difficult to understand the right amount of cotton to use and its optimal positioning, something that can be solved with a little practice.
I then built it with classic coils on a 3mm bit with 24ga with 5 turns and 1 / 4 and 6 turns and 1 / 4.
The atomizer is designed to be used also in single coils, although there is not bell gear reducer supplied, so I built it with a Lolly coil.
Final considerations:
Aesthetically I like it very much, it is heavy, well built and easy to use.
The pitch is basically airy, steam is excellent and the aromatic yield is very good.
The deck is not particularly deep, so it is necessary to squash with care.
With great surprise, the atomizer works very well in all the configurations I have used, both with traditional coils and with Lolly, reducing the air flow to have the best aromatic yield, but despite this the production of steam is always abundant .
I was very skeptical regarding this atomizer which instead impressed me for its flexibility and aromatic yield.