Hello everyone,today, I will be going over the Caliburn G by Uwell. As everyone knows, the original Caliburn really changed the game for pod systems, offering stellar flavor as well as pod performance. This time around, the battery is 690mah instead of 520mah, and it now has replaceable coils instead of full blown pods. It also has a new look and 7 more watts of power. Let's see how this pays off for them!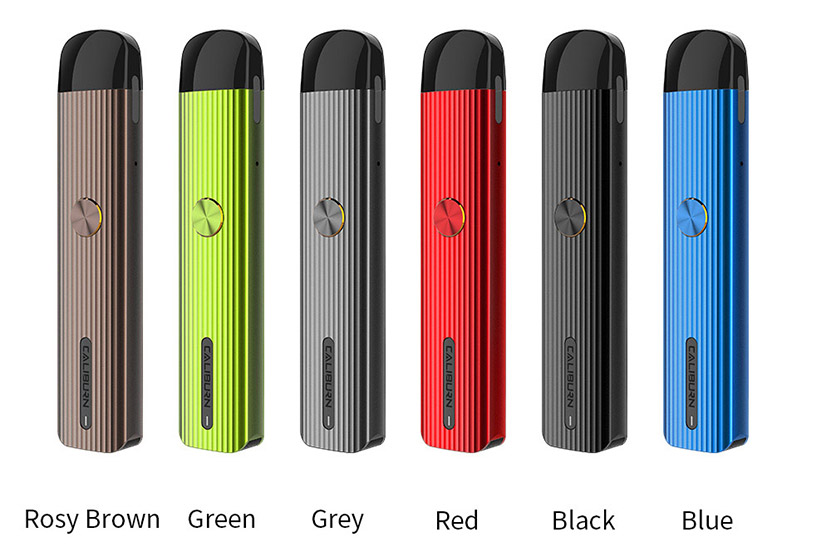 PARAMETER
Measurements: 108.3mm x 22.5mm x 12.6mm
Battery: 690mah
Power Range: 18w
Capacity: 2ml
Other features: Button or inhale fired, replaceable coils

WHAT YOU GET
Uwell Caliburn G 690mah battery
2mL pod
2 .8-ohm mesh H-coils
USB C charging cable
Paperwork

FIRST IMPRESSIONS
Out of the box I like the new styling. It is wider, has some stylish lines, and looks solid. It is still compact and pocketable, but it just feels a touch above the old one in quality. It still has a button for powering off and on so you don't have to worry about the pocket firing. The biggest things to notice are the shape and styling. Looks totally new and different.
OPERATION
Just like the OG, 5 clicks of the fire button will turn it on and off. It can be fired with the button or by inhale. It has a solid inhale switch which never failed once, even with lighter puffs. Towards the bottom of the device, there is a small LED. This lights up when firing to indicate that it is firing and also where the battery is at.
Green - 66-100%
Blue - 30-60%
Red - <30%
Flashing red is a dead battery
Another upgrade to this one is the USB-C port, so when it needs it, plug that thing in and wait for the light to be solid green. Super simple, easy, and familiar to Caliburn users.
The refill method on this one is a little different than the old Caliburn. The old one required some prying to get it off the top, but I found that the G requires you to just bend the tip towards a side of the mod and it pops off, revealing a sealed refill port that acts like a check valve. It fills up with ease using needle tip or small chubby bottles that salts come in typically. These have a replaceable coil now as well which is installed by just pressing into place in the bottom. Nothing the average user can't deal with.

USAGE
I tested this out with 3mg liquid or my blend that is 12mg of nic salts. It was just right for me with the 12mg salt. Few puffs felt satisfied and the flavor is solid for a pod just like we are used to with the original Caliburn. I dabbled with a 25mg salt and the added power and lower resistance coil made it too strong for me. It's a hell of a throat hit.
FINAL THOUGHTS
The biggest question I will be asked is if I like it over the original or if it is worth it. The bottom line for me is if there's nothing wrong with your original Caliburn, it isn't worth it. It actually may be too strong for the salts you were using. Beyond that, it's a damn good device.
The flavor is stellar, the coil life lasted me 30-40mg which is great. These are all good things, however, I have to point out a few things. This isn't like a new Caliburn, it just vapes differently. Battery life lasted through a day BUT BARELY. It seems like the extra wattage offsets the battery life, so don't expect to see an improvement in that department over the original.
Other thoughts on this come to the coils and the power again. With the extra wattage, I found that salts that are 25mg and higher are too strong for me. I don't need that much of a throat hit, and I like to sit and savor some flavor before the nic satisfaction kicks in. Like I already mentioned, it vapes differently, so if you love the Caliburn OG, I don't know if this would do it for you.
Where this one really shined for me was with lower nic, such as 15mg salts, or even 6-9mg freebase. I wouldn't really hold any of this against it, I just need to express that it is different and not all will love that. It's a solid device, looks great, and I never had a single failure or leak at all. If it sounds like it works with the strengths you like, or you can adjust the nic and adapt, I don't think there is a thing I could say to sway your decision from buying one.

PROS
Great flavor
Great coil life
Replaceable coils are getting stocked all over
Refill is less messy
Draw fire worked consistently and the bonus of button fire as a backup is a win
Looks nice and is still compact
Device can be shut off to protect against pocket firing
USB-C for the win

CONS
18w of power means 25mg and up nic salts were too strong for me
Battery life just barely gets to the end of the day and may not even get there for some