I waited about 4 months for today's device. Either the manufacturer didn't have it, or the sponsoring stores didn't have them. And now I finally have it. Let's soar and play. The review shows a very extraordinary device, Lost Vape Ursa Pocket Pod Kit.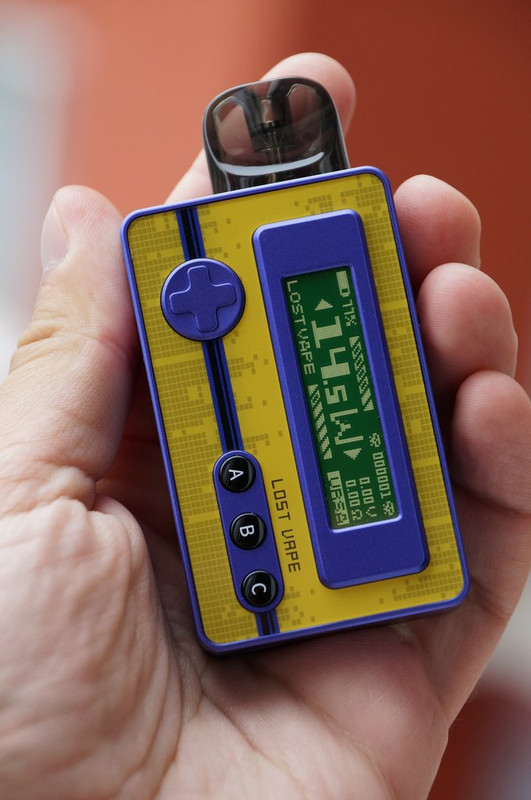 Some technical characteristics:
Dimensions: 95.2 x 46.2 x 19 mm
Weight: 88 g.
Housing material: aluminum alloy + plastic
Power: built-in 1200 mAh
Cartridge capacity: 2.5 ml
Evaporator type: UB mini coils/URSA cartridges
Power: 9 - 30 W
Protection: from low/high resistance, from overheating, from short circuit, from overcharge/overdischarge
Connector type: magnetic
Screen/diagonal: monochrome, 1.7 inches
Charging port/current: Type-C, charging current 2A
Color: see photo in spoiler
Equipment
- URSA Pocket mod
- replaceable URSA cartridge 2 pcs, 0.6 Ohm (preinstalled) and 0.8 Ohm.
— lanyard for wearing around the neck (lanyard)
— Type-C cable
— instruction manual
— warranty card

The device arrives in a cardboard box with a picture of the device in the color of what's inside. In general, the box is stylized very cool.
Inside there is the device itself with a pre-installed cartridge with an integrated evaporator, an additional identical cartridge, a Type-C charging cord, waste paper, and a lanyard for wearing around the neck. The kit is good. For complete happiness, you can only buy additional cartridges for UB Coils evaporators.
The image on the box immediately hints to us that this will be a "stylish, fashionable, youth" device. The device is made externally in the style of a joystick from the NES (Nintendo Entertainment System). In principle, Wizvapor already had something similar (but they initially chose the NES style for all their devices).
We open the box and see our sub-system, if you can call it that. The dimensions cannot be called small. The device turned out to be quite massive in size, and the weight is not small, almost 90 grams. But everything looks really neat and beautiful. The case is surrounded by a powerful metal frame, on which we see a traditional tightening adjustment slider, an additional air intake hole, and a charging port. On the front there is a screen and control buttons. There is a decorative panel on the back, under which there is an LED; the entire panel begins to glow during vaping and charging.
The manufacturer declared fast charging of 2 amperes, but alas, they lied a little. Measurements showed approximately 1.55-1.56 A. Yes, although this is quite good. Many people cannot boast of such a result.
The back panel can glow in 5 colors depending on the charge level:
- purple - 100-80%
- blue - 80-60%
- green - 60-40%
- white - 40-20%
- red - 20-0%
For the entire process We have 4 control buttons:
The cross Fire button is traditionally for turning on/off, hovering, etc. You don't have to press the arrows of the cross button, no, it's not a joystick.
The "A" button is the + button.
The "C" button is the - button.
The "B" button is used to enter menus and submenus.
All buttons have a pleasant click and do not play.
Turn on the device. We are immediately greeted by an animated greeting from Lost Vape, and the working screen immediately appears. It's not for nothing that I mentioned Beeper AIO, the working screen is almost a copy.
Let's go to the menu. There are virtually no settings inside, except for the reset menu and the ability to lock the power setting keys; in fact, the entire menu was given over to the entertainment component. I could not find how to disable the Fire button for puffing; the instructions (by the way, there is a broken Russian translation) also did not give an answer.
So, the GAME submenu: here we are offered two games.
Pet is something similar to a Tamagotchi game from the 90s. To pump up your pet you need to hover, a lot of hover. It's not easy for me to say "pumping up", because the process reminded me of the process of leveling up a hero in some game. You vape and trade your puffs for pet food. Food replenishes sleep and sports points. Sleep and exercise replenish growth and health points. Something like this. You won't have to clean up the furry ones and bathe them, but it's a pity, it would be more fun.
Slot Machine – everything is simpler here. This is the classic one-armed bandit. There is no need to take any puffs to play. Just a time killer.
Someone has already had this. Depending on the number of puffs you take, you will be given a reward.
There's probably no point in talking about cartridges; we see them in every device in the Ursa series. However, you don't even have to look at the connector, everything is identical to previous devices.
With the tightening adjustment, everything is done very conveniently; we have an air intake hole with a soft and smooth adjustment lever. If you cover it completely, then you can quite hover, since there is another hole located above.
The screen is large and informative, but still more focused on the visual and entertainment component. In the sun, visibility is very good. The watts are scrolled in circles of 0.5 watts.
There's probably no point in talking about taste either. The taste is standard for mesh evaporators, good and bright. The tightening when the air intake window is open is quite loose, but by tightening it with the adjustment lever you can achieve a tighter result. On a closed slider it's almost like a classic cigarette, and I used it in this mode.

Conclusion:
And the conclusion is this - if you just need a device for vaping, then take the Ursa Nano Pro or Ursa Baby Pro. But if you don't mind the extra money and want to stand out, then yes, you can probably take it. The appearance of the device is truly extraordinary, and makes people pay attention to it. I didn't find any cons.
A few words about the price: on the Russian market there is a wide range of prices, from 3200 to 4600 rubles. The Sourcemore store offers a price of $31.49 with promo code LUPP . Pros: - good taste - high-quality production - variable tightening adjustment - large display - appearance - entertainment component