Augvape VTEC1.8 Mod is available in the colors: Black, Red, and Blue.
Its measurements are: 87.5 * 45 * 29.2 mm and its weight is 165 g.
It arrives in a cardboard box with very "sporting" serigraphs as the design of this box is a tribute to the Honda engine.
Inside, in addition to the box, we find a USB cable -> micro-USB and the instruction manual.
This box is powered by 2*18650 batteries and can reach 200 watts.
The cup of the box is slightly raised and can accommodate atom up to 25/26 mm. Although I think you can get close to 30 without leaving the box.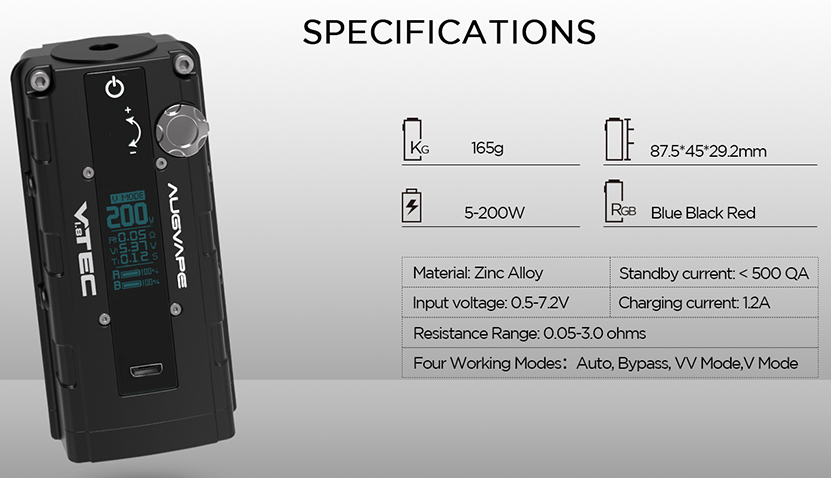 On the back, there is a leather insert engraved with the model of the Honda engine from which it takes inspiration.
The battery door closes very well and is very sturdy. I emphasize that it has no vent for the batteries.

On the front we find the Oled 0.96 "screen, the" hidden "fire button and the" cap "of the oil tank we use, turning it up or down, as + and -. This last it has a spring so, when we finish using it, it will come back in place by itself. The display is very visible, even in the sun.

With the usual five clicks, we turn it on and off. While with three clicks, we enter the menu. At this point a small little disappointment, as in the menu, we can only interact in the following operating modes, Auto, Bypass, VV Mode, Volt Mode. Temperature control is not present.

My way of vaping is not a problem, but I understand that many people may not like it.
The auto mode comes to us by suggesting the watts to be used for the type of resistance that we mount on the atom.
Whenever we change the atom or resistance, the box will ask us if it is new or old.
In daily use, I realized what could be a problem. When you turn off the screen, after about 10 seconds from the last puff, the box enters a sort of stand-by. When we go to pick it up, it takes a nap more to recover, giving the impression of having vaped in half. To overcome this reason, I got used to pressing the fire button to empty before pressing it to vape. I know that it is uncomfortable, but once used it's so annoying to do it.

Another small flaw is the fire button. It is very fast and just pressed, the circuit immediately pushes. But I would have put something to make it stand out by touch. Sometimes it happens that if you don't look at the box, your finger won't catch the exact position of the key.



Conclusions

I liked this box despite the little notes I made.
It is very solid and well-built, and it is pleasant to keep it in hand. The circuit is a bomb. It pushes a lot and optimizes the batteries to increase their life.

Already in the old Vx200, I noticed that in any case, the batteries lasted much longer than other boxes.

I recommend this box to those who want so much power combined with excellent battery management, even though in addition to the watts, it is not possible to customize anything inside.

Place an order --https://www.sourcemore.com/augvape-vtec1-8-200w-box-mod.html