The Pyro V3 RDTA is from Vandy Vape. It is a double or single-coil to of 24 mm in diameter, which fits with a postless mounting plate. It is very nice and quick to ride. The airflow of the Pyro V3 follows that of the competition because the installed resistors will be struck with air on the side. It has, in fact, 12 ventilation holes in the center of the deck and 18 holes on each side of the top cap in a "T" shape. What, again, find yourself facing a multitude of possible settings?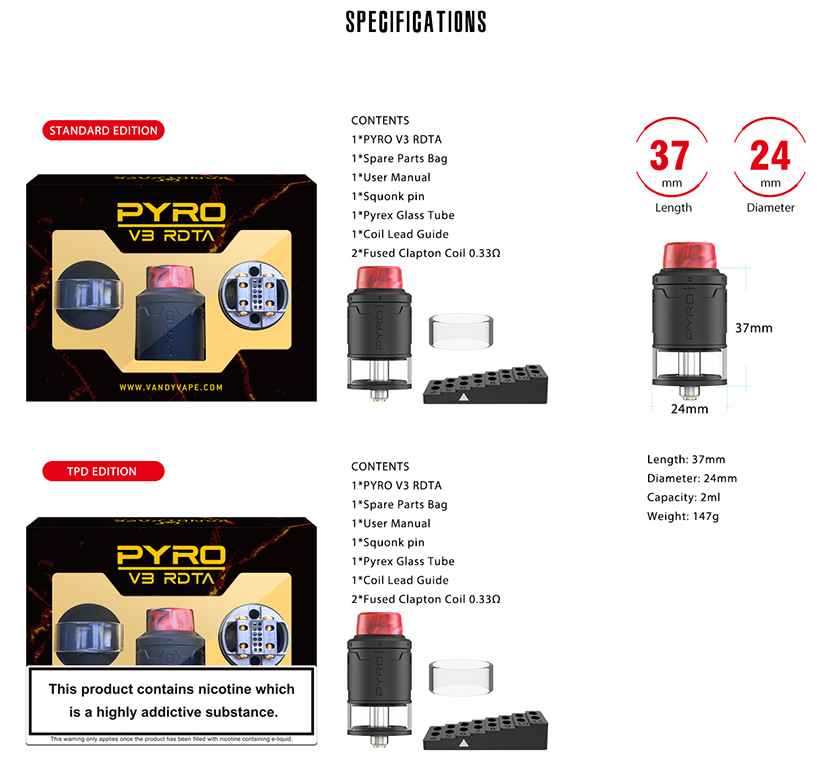 The main technical characteristics of the Pyro V3 RDTA:

Brand: Vandy Vape
Dimensions: 37 x 24 mm (without drip tip)
Screw pitch: 510
Type of atomizer: RDTA
Type of mounting: single coil or double coil
Tank: pyrex
Tank capacity: 4 ml
A material: stainless steel
Drip tip: 810
Airflow: adjustable
Air inlet: from the bottom and side
Filling: from the top and bottom feed (BF)
Type of vape: direct inhalation (DL)
Tray: postless (super easy to assemble)



The contents of the Pyro V3 RDTA box:

A Pyro V3 RDTA
A spare tank
A 510 BF pin
A "Coil Lead" tool
A spare parts kit (adapter for 510 drip tip, spare seals and replacement hardware)
A blue screwdriver and an Allen key
Two Fused Clapton coils (0.33 ohm each)
User manual

The Pyro comes with a template to cut the coil to the ideal size. That is cool! Vandy Vape advises cutting the legs of your resistors to 6 mm in the case of a double coil assembly.


I specify that I immediately installed the bf pin on the Pyro and that it works from the fire of God. I vape it "only" at 25 watts, and it already sends like not allowed! On the other hand, it seems useful to you to specify that it is the first atomizer that I use and with which I do not need to have a sheet of Sopalin in the pocket. The fault may be to an ingenious system that ensures its tightness. Do you remember the two filling holes? Well, when we put the top cap back on the Pyro plateau, these two holes are blocked by notches in this same top cap, and the whole is therefore perfectly airtight. The airflow is also very nice, and you will find all your ideal draw thanks to all the possible settings.

Overall, the Pyro V3 is also classy. It is of high quality. It is very simple to get started. It sends crazy clouds. The airflow offers multiple possibilities. It is delicious.