The New STNG MTL RDA from Wotofo designed by Wotofo and Vapor place from Russia. It comes with a concise design with a 22mm diameter.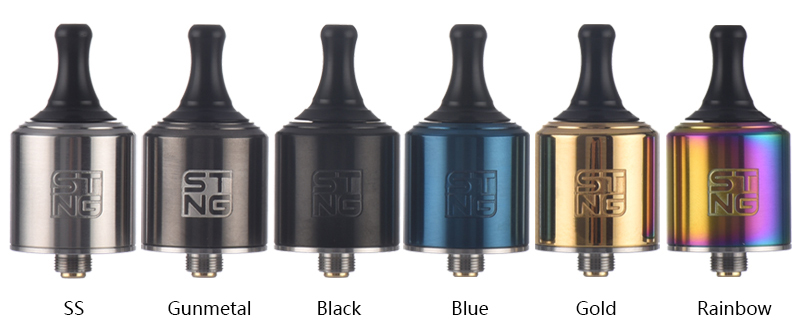 The main technical characteristics of STNG MTL RDA:
Brand: Wotofo
Origin: China
Dimensions: 43.15 x 22 mm (with drip tip)
Screw thread: 510 / BF
Atomizer type: Dripper MTL
Mounting type: Simple coil
Recommended power range: 5 - 30 W
Recommended resistance: 0,4 - 1,8 ohm
Material: Stainless steel
Insulation: German Peek
Drip tip: 510
Airflow: adjustable
Filling: Drip / Squonk
Available colors: Gold / Black / Gunmetal / SS / Blue / Rainbow
What comes with the STNG RDA
An STNG MTL dripper
Two pre-made coils (1 Dual Core Fused Clapton Coil + 1 Single-Strand Coil)
An additional drip tip
A wick of cotton
A BF connection pin (bottom-feeder)
A Phillips screwdriver
Allen wrench
A spare parts kit (spare gaskets, emergency bolts, and spare springs)
A user's manual
The specs of the coils included:
1. Dual Core Fused Clapton Coil
Recommended for vaping with conventional nicotine;
Material: Ni80 30G * 2 + 38G;
Resistance: 0.75 ohm;
Diameter: 2.5 mm;
Number of turns: 6 turns.
2. Single-Strand Coil
Recommended for vaping based on nicotine salts;
The STNG MTL RDA has a relatively small base for coil building, on which there are two posts clamps (spring) to ensure the fast coiling building. These two posts surmount by two cruciform screws.
The STNG is a pretty well RDA, which is sober, robust, and easy to assemble with excellent flavor. The spring screw is very interesting for that when it is too tight. It would plug back. Also, you cannot push it back till it the cotton is fully absorbed the juice. Even if, It has a revolution on the base and screws. When you want to build a thick coil, you have to pass it through the wire close to the screw, then get through the jaw so that the wire is well blocked on both sides. The with drop shape drip trip, it works well. The adjusting ring has a proper resistance for air adjustment. There are back up rings available.
In all, the STNG RDA delivery an excellent flavor. The two posts are very convenient for coil building. You will have a great vaping experience with it.
Place an order -- Wotofo STNG MTL RDA