As we know, the Smoant keeps releasing their new devices regularly. Here comes theirs lightweight powerful wattage box kit -- the dual 18650 battery 200w Taggerz TC kit. There are six colors available from black, grey, rose-gold which is very popular for senior vapers to red, blue and graffiti which is welcomed by younger vapers.
The Taggerz TC kit has an innovative design on the exterior. Instead of the screen on the narrow panel, the Smoant put it on the upper side of the wide side panel in the triangle shape. On the lower part is the adjustment buttons. It is an interesting design. It reminds me of the old walkman.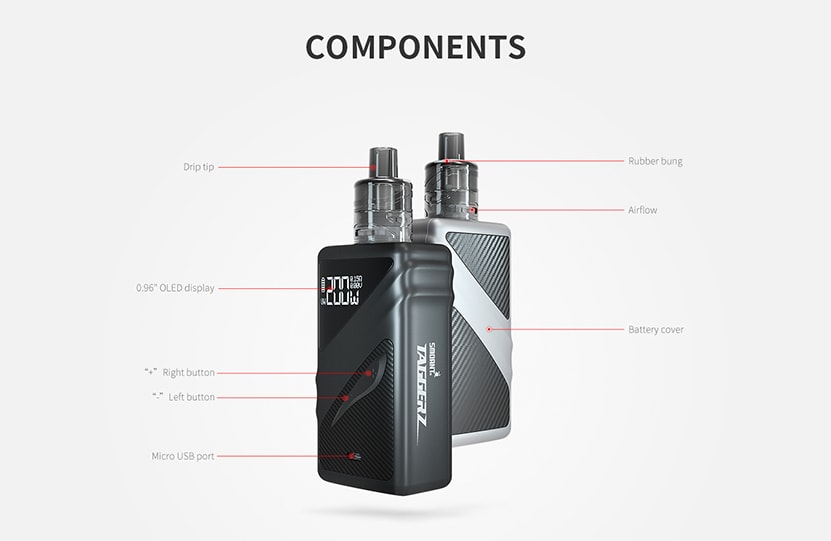 The box mod comes with the chipset which has a stable setting from Smoant. The modes for high wattage box mod all included in this mod. The selling point I think is the super lightweight for the mod which is only 90g without the battery in it. With the spread of the pod kit, the lightweight box mod is very important for competition. It has six-protection for the mod with safe vaping. It also has a balanced charging safety with 1.5A charging speed.
The Tank for the kit is the disposable Tank which is an ABS plastic lightweight tank. It is 22mm in diameter, 11g in weight and 2ml in juice capacity. The coil is the 0.2-ohm pre-made coil with the best output wattage 40-45W recommended. This kind of RDA is very popular in design which combines the cartridge structure and usage. This tank has a rubber bung of the top cap. It is the locker for refilling. Vapers can refill the juice directly through the slot. It is very conveniently.

For more details, we have to wait for the release of the Taggerz TC kit.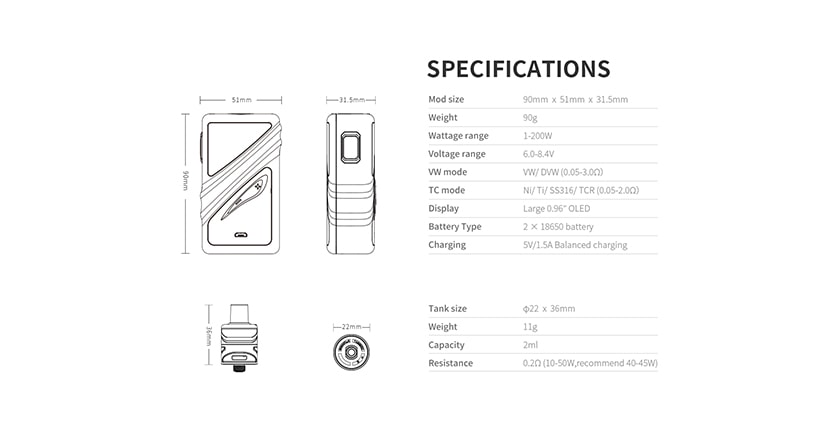 Smoant Tagger Kit Features:
1)Taggerz TC Mod:
1.Compact Size: 51mm X90mm X 31.5mm
2.Wattage range: 1-200W
3.Voltage range: 6.0-8.4
4.Output mode: VW/ DVW/ Ni/ Ti/ SS316/ TCR
5.Minimum Atomizer Resistance: 0.05ohm
6.Large 0.96" OLED Display
7.Battery Type: 2X18650 battery
8.Quick Balanced charging: 5V/1.5A
9.Low Resistance Protection
10.Over-time Protection
11.Overheating Protection
12. Overcurrent Protection
13.Low wattage Protection
14.Available in Black, Blue, Red, Grey, Rose-gold,Graffiti
2)Taggerz Disposable Tank:
1.Disposable use
2.Size: 22mm (diameter) X 36mm(height)
3.Capacity: 2ML
4.Weight: 11g
5.Easy Top Refilling E-liquid
6.Resistance: 0.2ohm (Best recommended wattage: 40-45W)
7.Available in Black, Blue, Red, Rose-gold