Today we will talk about not new, but good Pod-system from Smoant, specifically about Karat Pod Kit.
The device is packaged in a small white box.
On the front side we see the device itself, logos and color mark.
On the back side we see logos again, manufacturer info, package content, specification, barcode and erasable field to check device for originality.
Kit contains:
Smoant Karat Pod with cartridge;
Short flat micro-usb cable;
Warranty card and short instruction on Chinese and English;

Yes, there is only one cartridge included, no additional cartridge inside.
There are 5 colors of mod: Gradient Blue, Rainbow, Bronze Blue, Black, Gunmetal. I've got a Bronze Blue.

This kit costs only $13.50, and cartridges are sold separately at a price of $3.33 per piece.

Let's take a closer look at the device

Externally, the device looks like a jewel, but it is made, unfortunately, not of precious metals - with zinc alloy and polycarbonate.
The device is lightweight (83 grams), compact (89x48x12 mm), equipped with a battery capacity 370mAh and can work in the passthrough mode.
From the connectors of this device there is only a charging connector that supports 5V 0.5A charging.

Just below there is a hole for threading the lace, so you can wear the device on your hand or neck, if you need it, of course.
In the center is a blue-red indicator that shows the following: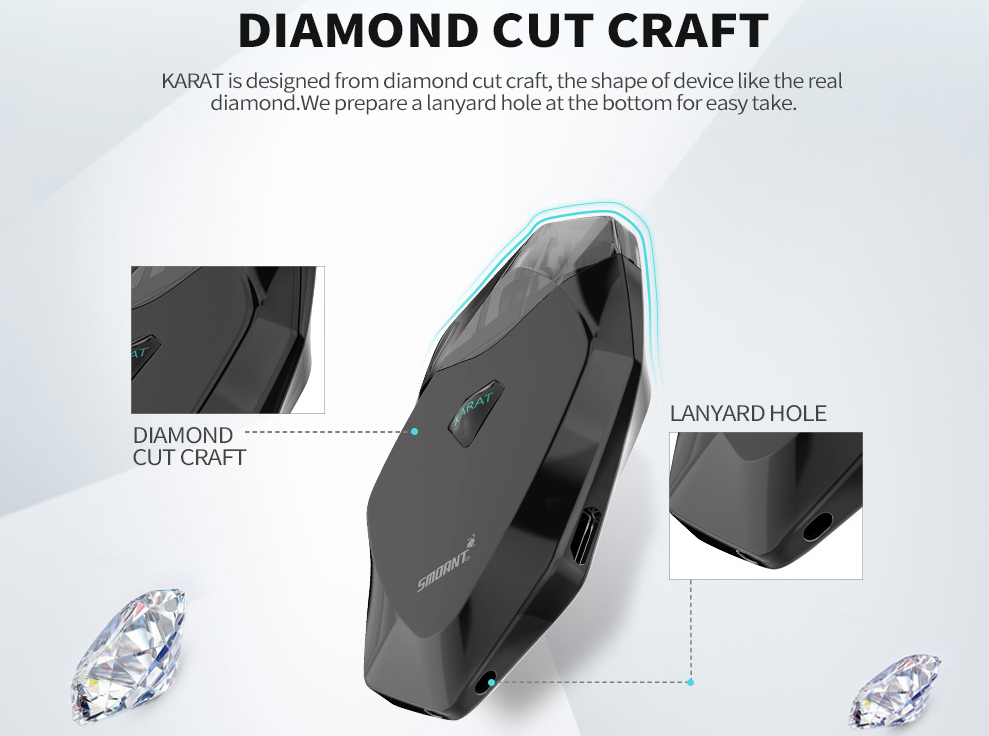 1. When a puff: it turns blue when charge is above 30%, red if below
2. When the cartridge is connected, it flashes blue or red once (depending on the charge level)
3. Blinks three times when the cartridge is disconnected.
4. When short-circuited, the red light flashes five times.
5. In case of poor contact, the cartridge flashes five times red and blue together.
6. When charging: flashes red if the charge is less than 70%,blue if more than 70%, and solid blue when 100% charged.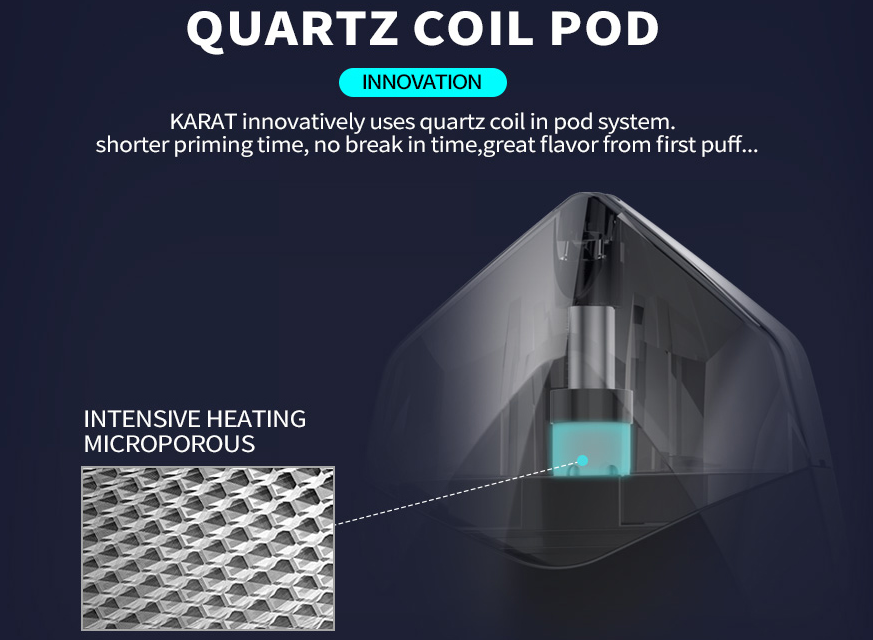 Here we see two spring-loaded gold-plated contacts, as well as round and powerful magnets tightly holding the cartridge in its rightful place.

Speaking of which…
The cartridge is made of dark translucent plastic, and can hold 2ml of e-liquid.
As a heating element named as Quartz Coil - spiral with 1.3 Ohm resistance, built in a ceramic wick and wrapped with a layer of cotton.

Such a solution gives a very good taste, but, unfortunately, it works good only with VG/PG 50/50, 60/40 e-liquid. Don't use 70/30!
Filling holes we can see at the bottom, they're closed with silicone plugs, which are difficult to open without a handy tool, but any metal object is attracted by a magnet, and you should open it with something like toothpick.
One filling hole fits tip of "Chubby Gorilla v3" bottle without any problems, and through the second out the extra air, so don't forget to open both holes when filling the
cartridge.

The quality of my cartridge from kit is very good — assembled firmly, no sharp parts, edges and burrs.
The overall impression of the Karat Pod Kit!
For its cost - it's definitely a great device, with something like a cigarette puff. I really like the taste transfer. Of course, not limit of my dreams, but very and very good.
There is one unpleasant moment — it, sometimes, occasionally spits hot liquid right into your mouth. It's really bad, especially when you use high nicotine liquid.

No more deficiencies were found - cartridge never leaked, and it's lifespan is just about 2-3 weeks. The operating time from one charge will be estimated by me as acceptable, full charge is enough for about one and a half cartridge.
Appearance, as for me — excellent. Suitable for the absolute majority of users.
Pros:
Good build quality;
Durable case that is not afraid of falling;
Stylish appearance, comfortable to hold;
Doesn't leak;
Cons:
Sometimes spits hot liquid right into your mouth;
It is difficult to fill the cartridge without the long nails or handy tool;
Not the most capacious battery;
Sold separately cartridges sometimes come across defective;