The box mod MVV from Dovpo is very popular with its characteristics as a variable voltage box mod. Now, here comes the Dovpo MVV II, which succeeds in the design for the first version.

The MVV II, in pattern design, is more unusual than the first version. The "Skull & Roses" and "Dragon Samura" in a bright color have a great shock in visual. Ignoring the adorning on the panel, we can admire the delicacy of the drawing and its abundance of details. The engraving process used here seems quite remarkable. We have to admit the adornment is a fine work of art. The shape of the box would remind us of the Tesla Invader IV. With dimensions of 91 mm x 53 mm x 27 mm, the Dovpo MVV II remains in the range of 18650 compact double boxes. Its composition of zinc alloy and polycarbonate giving it a featherweight of a hundred grams without batteries.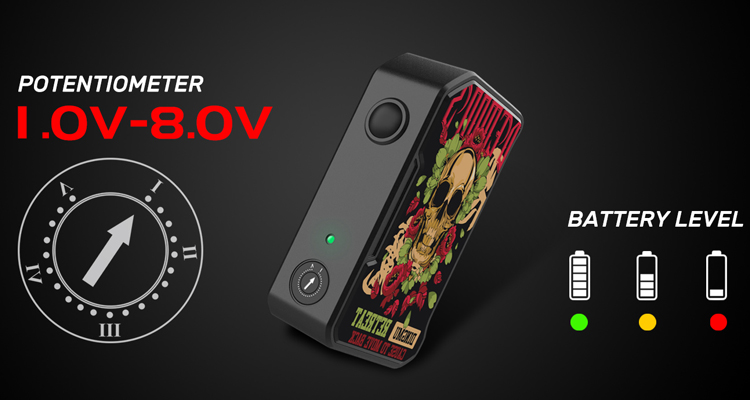 In front view, a small round LED light will inform us of the charge level of the batteries, the traditional variable voltage box rheostat allowing us to adjust the intensity of the current delivered. These three components perfectly integrated into the Dovpo MVV II seem of excellent quality.

The back of the box does not bring any particular remark, a notch marked "open" to open the box by slipping a nail being his only ornament. Note that only one of the side panels is removable, the other seeming fixed from the inside.

In view from above, the box shows us a connector 510, protecting the bowels of the box by a washer of silicone appearance and having a short elasticity under pressure.

The underside of the box and its four molded mini-feet remains in the beautiful general appearance, without however reassuring us by the presence of degassing orifices.

The tour on MVV II confirms it is a nice lightbox in a compact and very well finished status. The components, 510, switch, and rheostat are inserted carefully. All give a good impression of quality.

The MVV-2 unveils a USB connector type C, the new standard adopted for some time already on our dear mobile phones. We can use them for charging when needed. But keeping in mind, it is always better for batteries to charge with the external chargers. It is a little difficult to insert the batteries. The evaluation of the remaining battery charge is probably the only really useful flourish on a variable voltage box as there is no screen available.

Unlike the usual flute air, the manufacturer tells us here a recommended setting of the rheostat, especially the maximum power possibly delivered for different resistance values.

And finally, vape on!
The box MVV-2 works properly, electricity reaches the atomizers when you press the switch, and the potato varies when you operate the rheostat. Difficult in the absolute to say more about a box with variable voltage!
Place an order -- https://www.sourcemore.com/dovpo-mvv-2-ii-mech-mod.html