VINCI Pod Kit Royal Edition is coming! It equips with top configuration as it's named Royal Edition. Gorgeous body and traditional fine relief crafts symbolize its noble status like the royal family in vape market.
Brilliantly built this device with 800mAh built-in battery, the exceptional Gene Chipset and the outstanding pods as well. Such a high-end version full of enriching features provides you the best enjoyment with an immersive vaping experience and inspires the infinite possibilities and permanence of vaping fun.

Classical relief sculpture technology
It's not an exaggeration to claim this kit as a masterpiece of art.
The art of playing with transparency and making light dance across gleaming aluminum alloy to transform the airflow movement into an ethereal ballet.
It's crafted through 8 months of 12 manufacturing processes and 68 steps, which makes it extremely precious.
Every single is made by skillful sculptors and experienced artisans, the unique models endlessly push the boundaries of excellence.
It is worth mentioning that 6061 Aluminium Alloy has been adopted by VINCI POD Royal Edition for its excellent strength and plasticity, brilliant fracture toughness and fatigue resistance, outstanding stress corrosion resistance and exfoliation corrosion properties, aimed to provide you with more advanced experience.

Outstanding performance
It also improves and upgraded its accurate intelligent adaptive wattage control, when it detects the installation of pod cartridge and checks its resistance, then your kit will automatically match the most suitable power to output so that each time you vape, the most ideal vapor and taste you will get.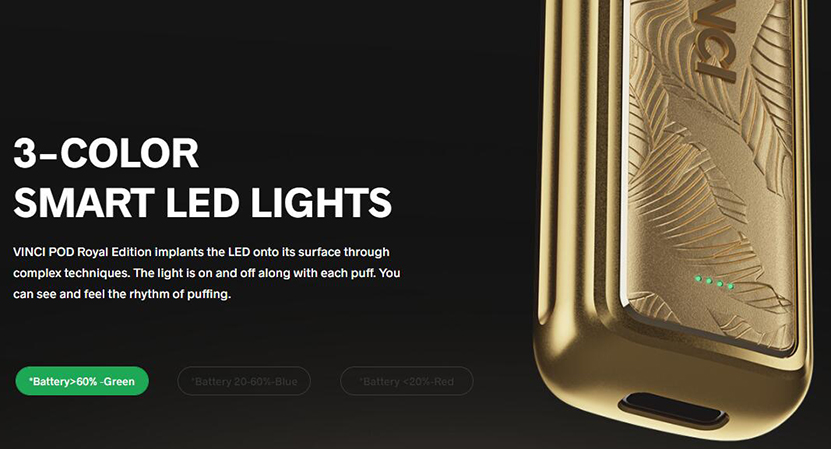 To bring a convenient overall session, it operates a draw-activated firing mechanism and an ergonomic mouthpiece, no need for the bottom, and inhales as simple as breathing.

Advanced Pod Cartridge
The VINCI Royal Edition along with two pods, 0.8 Ω and 1.2 Ω, makes flavor in various layers from original taste and nicotine experience. It is capable of cartridges of VINCI Q, DRAG NANO 2, VINCI POD, too.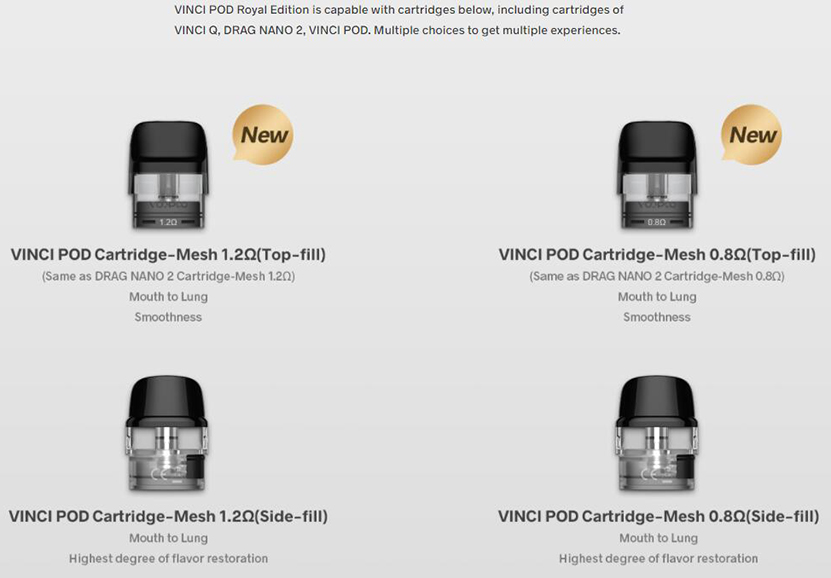 The 2ml capacity using the convenient top-fill method makes the refilling as easy as pie without pulling out the pod to refill while maintaining a hygienic filling process. This Visible cartridge shows the remaining e-juice level real-timely. No worries about e-liquid being run out.
Aside from that, the Pod Cartridge ensures you leak-free function with its reflow structure inside. No leaking fuss anymore.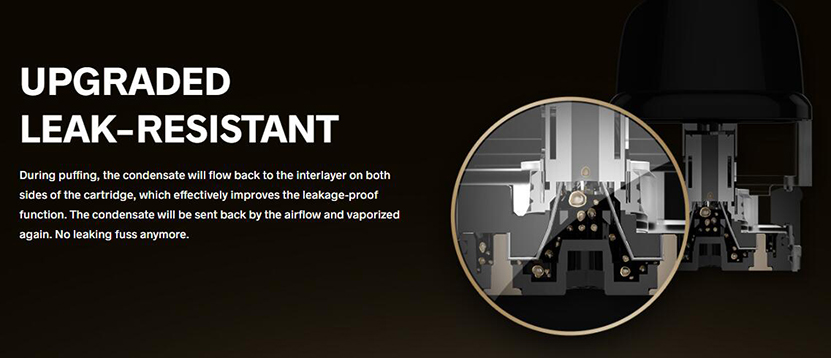 Relating to airflow, It's adjusted with button on the side of the device. Your can find out your preferred airflow by adjusting the button.

Learn more:
VOOPOO VINCI Pod Kit Royal Edition
VOOPOO Drag Nano 2 Pod Cartridge
VOOPOO VINCI Pod Cartridge