Yes, here comes the newest and greatest from VooPoo's Drag Series: The Drag S Pro and Drag X Pro!
It's the first time for kits to employ GENE.FAN 3.0 Chip, more powerful and smarter, actually it's a big improvement of previous generation devices. Made from zinc alloy and leather, a refined vape gear.
Supporting three modes: SMART Mode, RBA Mode and TC Mode, Drag S/X Pro provides various vaping ways to vapers. SMART Mode is good for beginners, and RBA Mode is pleasure for experienced or professional users. TC Mode makes it playable to maximum for players, which will have to be downloaded from VooPoo's website.
The innnovation of 360°airflow control ring is all uniform and smooth, with no knob sticking out that can catch in our pockets. Perfectly designed for MTL vape to enjoy smooth and rich flavor.
Another greatest innovation is a toggle switch(On/Off button). You can feel the top performance of turn it on/off and lock/unock state. Meanwhile, it retains the traditional On/Off function of pressing five times. Dual experience, switch freely!

Size:
Drag X Pro measures 28.8 by 34.5 by 135.5mm.
Drag S Pro measures 28.8 by 34.5 by 125.5mm.
Drag X Pro is a little taller than Drag S Pro.

Battery:
Drag X Pro can house a single 18650/21700 cell in (Not Included, sold separately).
Drag S Pro features an integrated 3000mAh rechargeable battery.
Both of them are strong with Type-C 5V/2.5A fast charging port to accompany you from morning to night with good battery life.

Output Power:
Drag X Pro can reach up to 5~100W wattage by working with single 18650 or 21700 battery.
Drag S Pro can reach up to 5~80W wattage by working with built-in 3000mAh battery.
At the same time, both of them have a max output of 8.5V.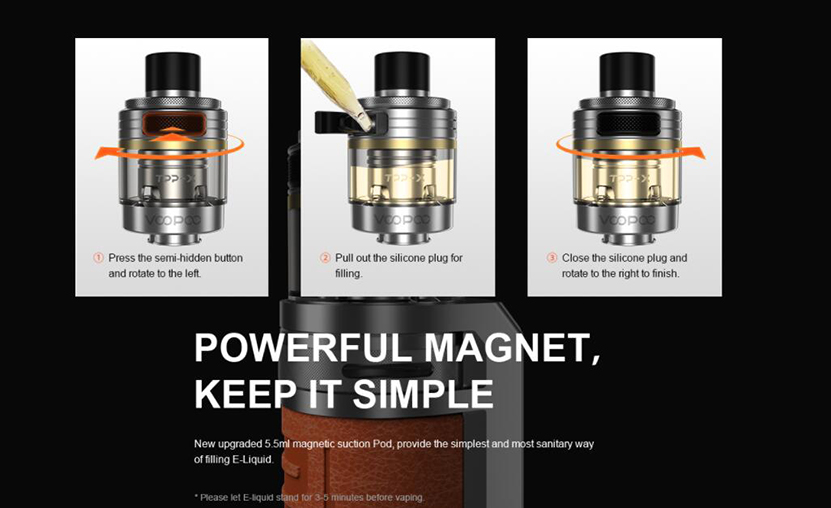 A new TPP-X Pod is equipped with a childproof structure: "semi hidden button". You must press the semi-hidden button and rotate it to the left before pulling out the silicone plug and filling it. The pod matches for original TPP coils.

Drag X Pro Kit comes with TPP-DM1 0.15Ω Coil & TPP-DM2 0.2Ω Coil.
Drag S Pro Kit comes with TPP-DM1 0.15ohm & TPP-DM4 0.3ohm Coil.

Software upgrading Service: Consumers have access to upgrade the software to the latest version on VOOPOO official website (www.voopoo.com), which requires a specific Type-c cable equipped with voopoo product to connect the computer. Meanwhile, the side of the Type-C cable is marked with "▲" shall face rightward. Please keep your device fully charged.
The Pro series Drags are decent performers at the core, made better by slight improvements, are now much easier to manage and maintain.