Discover the latest update to the Caliburn lineup, Caliburn A2S, an MTL pod system kit.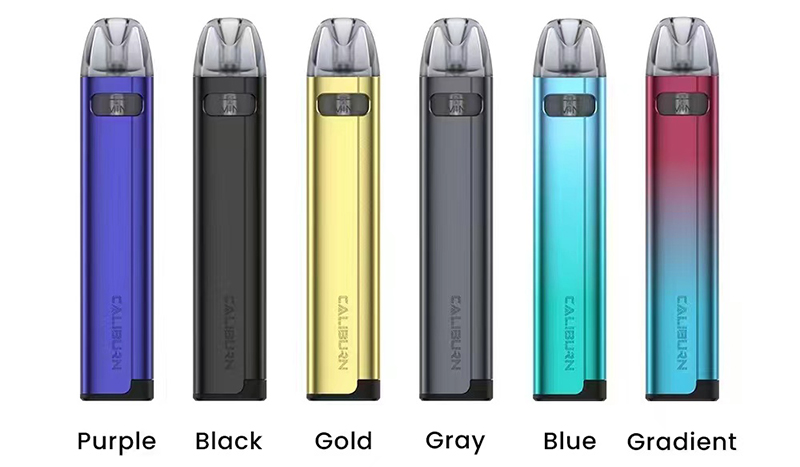 Coming with 6 avaiable colors, e-liquid check window and a lip-perfect mouthpiece, the A2S features a lightweight and sturdy aluminum alloy chassis.
A compact body with simplicity is simple to put in a pocket, handbag, or bookbag. It's very friendly and durable for beginners.
It features a lights-consisted logo on the bottom side as previous caliburn devices. The logo will flash during the vaping process. With different battery levels, it will flash in different colors. You can know the battery levels while appreciating the lights' beauty.
Integrated with a 520mAh rechargeable battery, it can reach up to 15W with constant voltage output. No extra button, the air-activated auto draw makes it easy to use and an ideal device for vapers.
Aside from that, there are also a few places to praise the transparent refillable pod. The 2ml capacity using the silicone stoppered side filling system makes the refilling as easy as pie without pulling out the pod to refill while maintaining a hygienic filling process. Just choose your favorite E-juices or nic salts as you want.
Pro-FOCS flavor adjustment technology restores the e-liquid's original flavor perfectly. Producing incredible flavor and vapor that will delight the taste buds, all from your favorite e-liquid or nicotine salts.
This Caliburn A2S also compatible with the 0.9ohm Caliburn A2 Pod.

Specification:
Dimensions: 110.1 x 21.3 x 11.7mm
Wattage Output: Max 15W
520mAh Built-in Battery
Draw Activated Firing System
Lightweight Aluminum Alloy Construction
Visible E-Liquid Window
2.0ml Pod Capacity
Integrated 1.2ohm Mesh Coil
Silicone Stoppered Side Filling
Magnetic Pod Connection
Type-C USB Charging
Available in Black, Grey, Purple, Gradient, Blue, Gold

Learn more:
Caliburn A2S Kit
Caliburn A2 Pod