Let's start with the packaging.
A typical GeekVape box with a picture of the device. At the back you can find stats, production, etc. etc. Boring and monotonous? Well this is minimalism!
The updated GeekVape M100 looks almost the same as its first version. But now the lines are smoother, the box itself looks neater, but at the same time all the characteristic features of the Aegis line are preserved (And everyone's so beloved by the eco-leather insert too).
Available in a variety of eye-catching colors - silver, gray, rainbow, red, black and blue. And there are also whales with a Geekvape Z Nano 2 tank.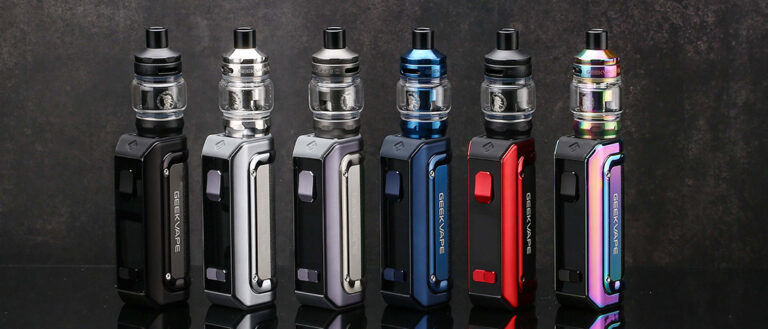 The tank is a slightly updated version of the Z Nano Tank, but the changes only affected the appearance: the tank became thinner and lighter. Standard "non-service", but pleases with taste and bulk.
The tank is designed to use the B Series evaporators, there are two options in the kit at once - 0.2 and 0.6 Ohm, both on the grid, so there will be no problems with taste and large clouds.
The landing area is only 24mm, this is due to the diameter of the complete tank, but this is quite enough.
Specifications
Has protection against dust, water, shock and meets the protection class IP 68;
Maximum power 100 watts;
Built-in battery with a capacity of 2500 mAh (by the way, the service life of built-in batteries is much longer than that of replaceable brothers);
The Type - C connector , which is located on the upper end of the device and is closed with a silicone plug. Supply current 2 A; Flip-top Type-C charging port provides faster and safer charging. Hinged cover design simplifies operation, easily opens with one hand and protects the charging port from moisture;
Chipset AS -100 (abridged version);
Display 1.08 inches with a standard set of information about the operation of the device;
A lock slider on the side of the device so that you don't accidentally press anything with your playful fingers.
Conclusion
GeekVape M 100 ( aka Aegis Mini 2) is a great option for those who are looking for a simple, small, practical and neat mod, while at the same time, to put it mildly, indestructible. Boxing does not differ in anything out of the ordinary, but at the same time it will serve its owner for many years and please with stable work.

Disadvantages:
Minimal functionality.
Advantages:
Compact size;
Choice of flowers for every taste;
IP68 protection ;
Reliable chipset;
Capacious battery;
Fast charging;
Lock slider;
Simple controls.